Tax Preparation Services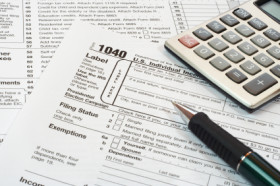 Have you ever had your taxes prepared by an inexperienced tax preparer or a well-intended, but unqualified relative? More likely than not, your tax return contained errors, omissions, and missed deductions or tax credits. When you choose a tax preparer who is not well versed in the latest tax law changes or IRS policies, you could easily end up getting shortchanged on your tax refund. Even worse, a poorly prepared tax return could trigger an IRS audit. When you add up all the potential pitfalls of amateur tax return preparation, it makes far more sense to spend a few extra dollars to hire experienced income tax preparers. If you're looking for impeccable tax preparation at competitive prices, The Levy Group of Tax Professionals is the company to turn to in Charlotte and environs.
Our team of enrolled agents and experienced tax preparers takes pride in the quality of our work and our knowledge of federal and state tax laws. You can count on us for accuracy, thoroughness, and total professionalism from your first phone conversation with us to the moment we file your federal and state tax returns. As one of the most service-oriented tax preparation services in the Charlotte area, we're also available to assist you with your tax planning strategies for the future. Our income tax services are available 12 months of the year to answer your tax preparation questions and help you with record keeping and financial decisions. When you choose The Levy Group of Tax Professionals as your tax preparation service, you gain the peace of mind of knowing that your tax return will be prepared thoroughly, accurately, and with your best interest in mind. Call us today to set up an appointment.
In the event you run into problems with back taxes, IRS audits, or tax penalties, you can also depend on our enrolled agents and tax attorneys to provide you with the sound advice and strong representation you need to straighten out your difficulties with federal or state tax authorities. We're a full-service tax preparation and tax resolution firm that brings you the experience, knowledge, and competitive prices that aren't always available from other tax services in the area. Our objective is to help you stay in control of your finances, get all the tax deductions you're entitled to, and receive expert assistance when you encounter tax problems. When you need a top-notch income tax preparer who is up on the latest tax law changes, problem resolution techniques, and penalty abatement strategies, call The Levy Group of Tax Professionals.
Tax Filing Service
Tax Prep Service
File Tax Service
Tax Preparation Services